"Our customers are
our valued
friends and partners."
Insulated Concrete Forms (ICF)
How we build...
In 1994, I was introduced to a new way of building. This method of construction involved a stay-in-place insulated concrete forming system known today as Insulated Concrete Forms or ICF's. This type of building system was introduced in Europe in the early 1970's. By integrating the use of ICF's in a significant number of the homes we build, we began our company with Green focus and mindset. We chose to build Green before it became the movement it has become today. As with all large scale movements, careful discernment becomes critical.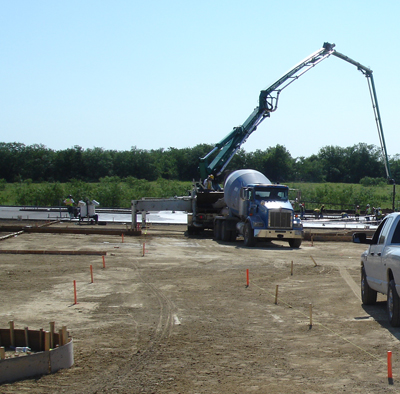 Our homes incorporate the latest and effective technologies as well as age old practices from the building trades. For example, one the newer technologies involve HVAC systems that incorporate a Humidistat. In our climate, comfort is not determined by only temperature in the home. The level of humidity in a home is critical in whether a homeowner is comfortable. For this reason, we install Air Conditioning and Heating Systems that monitor the relative humidity of each and every home we build.
We also incorporate whole house water purification systems in each and every home we build. Contaminants can appear in the water lines that connect our homes to the cities water supply, yet with a whole house water filtration system, chlorine and other harmful contaminants can be greatly reduced thus improving the health of each of our homeowner. Ultimately, we are focused on creating a healthy interior environment for our homeowners. From guidance in material selections in the construction process to the kinds of cleaning products we recommend after the home is completed. We maintain a passion for the homeowner's positive experience in their homes. We choose to inform and explain our recommendations and help each customer understand why we are using a certain product or making a particular recommendation.
After building Green homes for fifteen years, our company has become familiar with the techniques and design issues and opportunities with the construction systems we incorporate. As a result of this experience we are able to offer the following areas of guidance during the construction process:
The best construction and design techniques for building a Green ICF home.
The best framing techniques when using ICF's.
The best floor truss systems and techniques for attaching floor decking.
The best alternative structural framing and floor systems.
The best array of exterior finishes and the methods of attachment to the structure.
The best choices of Air Conditioning and Heating Systems that work best with ICF's and Green homes.
The best Green roofing systems.
The best way to approach building a LEED Certified home.
And finally, the best way to integrate all of these systems with your new Green home and an explanation as to why we choose the methods and materials we use.
Why we build the way we build…
Our clients enjoy homes that are structurally superior, energy efficient and easy to maintain. They realize cost savings because of better material choices, and reduced insurance rates because insurers know that improved structural systems translate into lower insurance claims. The homes we build are consistently achieving the highest ratings available under the US Green Building Council's LEED (Leadership in Environmental and Efficient Design) for Homes program. Homes that achieve Gold and Platinum Certification under the USGBC's LEED of Homes program have been tested and rated to a standard that requires third-party inspection and verification of each homes performance level.
At the end of the day, we feel a home should be the place that you enjoy spending your time with your family.